THE POLYGRAPH LOUNGE!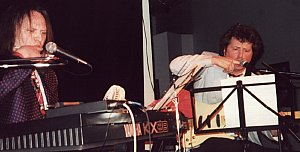 Conceived in the musical hotbed of New York City's Lower East Side, Polygraph Lounge is the duo of Rob Schwimmer and Mark Stewart. Over the years they have worked with a who's who list of artists including (alphabetically):
Fred Anderson, Laurie Anderson, Burt Bacharach, Bang on a Can All-Stars, Matthew Barney, Iva Bittova, Theo Bleckmann, Anthony Braxton, Edie Brickell, Marshall Brickman, Steve Buscemi, David Byrne, Don Byron, C&C Music Factory, John Cale, Yoshiko Chuma, Ornette Coleman, Sammy Davis Jr., Dispatch, Drepung Loseling Tibetan Monks, Bob Dylan, Ethel, the Everly Brothers, Eliot Feld, Bela Fleck, Fred Frith, Vince Giordano and the Nighthawks, Phillip Glass, Elliot Goldenthal,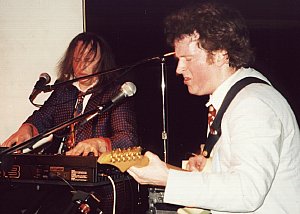 Michel Gondry, Josh Groban, Adam Guettel, Mary Cleere Haran, Geoffrey Holder, Jack Quartet, Joseph Jarman, Antonio Carlos Jobim, Chaka Khan, The Klezmatics, David Krakauer, Alison Krauss, Queen Latifah, Ang Lee, Mabou Mines, Teo Macero, Christian Marclay, Arif Mardin, Susan Marshall, Hugh Masakela, Paul McCartney, Bobby McFerrin, Bette Midler, Meredith Monk, Willie Nelson, Alwin Nikolai/Murray Louis, Odetta, The Orchestra of St. Luke's, Gwyneth Paltrow, Annette Peacock, The Philistines Jr, Steve Reich and Musicians, Vernon Reid, Marc Ribot, The Roches, Maria Schneider, Marc Shaiman, Wayne Shorter, Paul Simon, Simon and Garfunkel, Bruce Springsteen, John Stubblefiled, Cecil Taylor, James Taylor, Kurt Vonnegut, Jr., T-Bone Walker, Hal Willner, Stevie Wonder and Charles Wuorinen.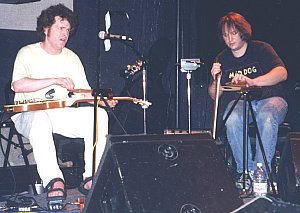 Seeking fulfillment outside of their parallel lives as virtuoso soloists, composers and model sidemen of utter sobriety, they created Polygraph Lounge where they offer up inspired lunacy/anarchy fired from a veritable arsenal of original instruments & vocal stylings. As the rambunctious children of Spike Jones, Victor Borge, PDQ Bach, Tom Leher & the Firesign Theatre, Polygraph Lounge strip mine the common cultural currency of yesterday, today & tomorrow, engineering an epic sonic train wreck aimed directly at the funny bone of us all as we greet/shape a new millennium (together): High brow, Low brow, Uni-brow! Inna Gadda Da Vida as Gregorian Chant, Led Zeppelin meets Aaron Copland, an audience of hundreds of nostrils flaring and blaring on nose flutes in The Good, The Bad, and The Ugly while the ph'Lounge soars over the top in the surf guitar paradise that is Tchaikowsky's Swan Lake. Be it current events, Herman Melville's Moby Dick, or Mozart's Eine Kleine Razzernacht, all are fodder for the cannon of hilarity fired by Maestros Schwimmer & Stewart directly to your Medulla Oblongata Da Vida.
---
Listen to Rob and Mark interviewed on KUAR Public Radio's Arts & Letters, first broadcast on Friday, November 8, 2019.
---
THE POLYGRAPH LOUNGE!
[ Home ] [ Gigs ] [ About ] [ Quotes and Reviews ] [ Contact ] [ Booking ] [ Rob Schwimmer ] [ Mark Stewart ] [ Melissa Fathman ] [ Videos & CD ] [ Theremin Noir ] [ Photos ] [ Instruments ] [ Links ]