THE POLYGRAPH LOUNGE!
WHAT PEOPLE ARE SAYING:
«Mad genius should always be this fun!»
> > > more
Ben Sisario
The New York Times
«Mind-numbing virtuosity and rib-tickling wit — that's Polygraph Lounge. They take words and music apart and put them back together in astonishing and hilariously unexpected ways.»
Peter Schickele, discoverer of P.D.Q. Bach
«
Experimentation in a Sonic Salon
— Mark Stewart, an electric guitar player, musical instrument inventor and sound maker, operates a sonic salon on Rivington Street. Mr. Stewart has been the musical director for Paul Simon for close to 20 years and recently took on the role for Simon and Garfunkel. He's a founding member of Bang On a Can, a professor at the Manhattan School of Music and one half of the duo Polygraph Lounge. Mr. Stewart talked to Ozier Muhammad for the 11th installment of "Sounds From Uncommon Spaces.»
> > > more
Ozier Muhammad
The New York Times
«
It's not spin, it's torque
—P-L reminds me of fighting over the TV, pre-remote»
> > > more
Lorna Lentini
«
Polymath Louche
—"We play the
tunes
man," Mark Stewart claims, "and you even get "Swan Lake"! »
> > > more
Lorna Lentini
«Bobby McFerrin needs no help in entertaining a crowd. Even so, this afternoons collaboration with the zany Polygraph Lounge (at Carnegie Hall) ought to be especially memorable for young and old alike.»
Time Out New York

«extraordinary intelligence and musicianship»
> > > more
Zsuzsanna Soboslay
RealTime Arts
Canberra Sounds Alive Festival review
«Finally, nothing all season was as much fun as an evening at the Somerville Theatre with the two anarchic musicians of Polygraph Lounge, Rob Schwimmer and Mark Stewart. These guys know 250 years of music cold and make amazing and amusing connections among its disparate strands. Where else would you hear a reference to ''Ornette Funicello"?»
Richard Dyer
The Boston Globe
«Vibrantly screwy»
Steve Smith
Time Out New York
«Musically high-minded but hilariously lowbrow and always maniacal!»
Mary Huhn
New York Post (Mary's Hot Pick)
«Nothing today is much like Polygraph Lounge, and nothing like Polygraph Lounge would have been possible earlier, because its work depends on more than 250 years of music since Bach's day, and on modern electronics -- not only electronic instruments, but the electronic world that all of us inhabit, in which the music of the world can fill the air at a touch of a button, and everything we have heard can be simultaneously present in our memory and imagination»
Richard Dyer
The Boston Globe
(Living/Arts Section)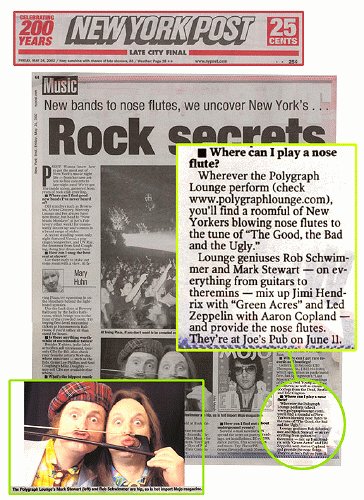 NY Post article by Mary Huhn
«Of all the quirky bands in New York, Polygraph Lounge stands out for its sheer ingenuity... Once their mischievous, hyperactive creativity gets loose, there's no stopping it... Mr. Stewart and Mr. Schwimmer have the kind of chemistry one expects from a smart, funny rock band that has been together since childhood, goofing off and punning left and right like fresh young Beatles.»
Ben Sisario
The New York Times
(Arts and Leisure Section)

«Fearsome prowess... These two can hook anything in the deep ocean of pop effortlessly, which frees up their attention to wring melody from a theremin, daxophone, PVC bassoons, and cardboard alpenhorns (e.g.). The stage looked like the Cat in the Hat ransacked a gamelan.»
David Krasnow
The Village Voice
«If you pine for one more Spike Jones, Firesign Theatre, or Tom Lehrer show, get yourself to the BAMCafe this weekend. The zany, musically tight, and lyrically brilliant duo Polygraph Lounge has been enlisted as comic relief...»
Alicia Zuckerman
New York Magazine

«When musicians Rob Schwimmer and Mark Stewart met at DBA ... seven years ago, they discovered they shared two common interests: beer and career. »
> > > more
Rick Palley
Brooklyn Skyline

«Polygraph Lounge is REALLY smart and REALLY funny--we were laughing out loud!»
Paul Simon
«Polygraph Lounge is today's pop culture meets Spike Jones meeting John Cage!
A great evening on every level! --They're explosive!»
Arif Mardin
Legendary multi-Grammy Award winning producer including 2003 Grammy Award Winner--Producer (Norah Jones)
«Inventive and brilliant, brilliant, brilliant! I have not been so entertained on or off Broadway. This is great family entertainment. The whole show is a must-see gem!»
Geoffrey Holder
Tony Award-winning
director/choreographer/actor
«Wonderful, animated, spiritually uplifting inspired madness.»
Rinde Eckert
Obie Award-winning composer,
performer, writer and director
«Polygraph Lounge is the the Jonathan Winters/ Robin Williams of music!»
Marshall Brickman
Academy Award winning screenwriter of
Annie Hall, Manhattan, Sleeper, etc.
«Polygraphically perverse, they leave no pun, musical or otherwise, unturned!»
Elliott Sharp
Renowned iconoclastic
composer and performer
«In this era of institutionalized mediocrity, Polygraph Lounge offers a rare opportunity to get back to what music and culture was supposed to be in the first place: fun, challenging, multi-layered, sophisticated, relevant. They engage the audience intellectually and emotionally, something that doesn't seem to exist anymore. I leave every one of their shows feeling enriched, connected, and itching for another hit of Poly!»
Limor Tomer
Music Curator at BAM,
Lincoln Center Festival, Symphony Space
«Everyone likes them. It's educated tomfoolery, expertly performed. It's the musical equivalent of Spike Jones filtered through the brainy wit of Oscar Wilde, the intelligence of Herman Melville and sophomoronic genius of Pee Wee Herman. And connected to a performing capability that is profoundly campy and expert. They really deserve their own TV show.»
John Hammel
host of "From Mozart to Motorhead" WNTI-FM
«If the world were the Moulin Rouge - full of trap-doors, endlessly subtle, absurd and effortless jump-cuts through history - then P. Lounge would be the house band and everyone would show up in the Grand Canyon for a dance. Were there a world where Spike Jones was revered as a Beethoven's Beethoven, P. Lounge would be the band that Paganini would have started with Little Richard if Dorothy had won the revolution in Oz. But she did win! And P. Lounge lives!»
Anthony Gatto
director of Headwaters Music and producer of the
annual Festival Dancing in Your Head, Walker Arts Center, Minneapolis
«I'm crazy about your maniacal duo--you guys have references in your TRANSITIONS from reference to reference! Will you be preparing new material for the upcoming concerts, or did you reference all extant music already? One of the most fun things about your show is how you turn virtuosity into a game, truly playing.»
David Garland
host/producer of "Spinning on Air" and "Evening Music" WNYC -FM
«...by far the funniest, most ridiculous combo I have heard/seen since the Mothers at the Fillmore!»
Bruce Gallanter
Downtown Music Gallery
«delightfully loony»
" New York Metro
New York Magazine
«...one of the strangest and most wondrous musical collaborations in New York City! ...they are the best damn players you've ever seen...Their flock is devout and growing....rare and special instruments in rare and special hands.»
Linus Gelber
MusicDish
«Right from their first performance at Joe's Pub, through their recent fall residency, Polygraph Lounge have developed an enthusiastic and growing following of true believers, attracting sold-out houses and major press attention in The New York Times, NPR and more. Quirkily brilliant, they combine musical virtuosity, an encyclopedic knowledge of music (high and low musical references fly by at lightning speed), an almost psychic on-stage rapport and a childlike playfulness. This gives them an uncanny ability to get jaded New York audiences to open up, and join them playing nose flute sonatas, dancing to car alarms and generally just being silly. P-Lounge always pull a surprise or two (including guests like Paul Simon, Geoffrey Holder and Edie Brickell) out of their overstuffed bag-of-tricks. They are also some of the nicest guys you'll ever work with, or drink an overproof Belgian beer with.»
Bill Bragin
Director of Joe's Pub
at The Public Theater
«Little did I realize when I listened to Rob Schwimmer set the house levels for his theremin by quoting, of all things, the theme to Tadd Dameron's bebop standard "Hot House," what shameless depths of satire this keyboard virtuoso/multi-instrumentalist and his co-conspirator, guitarist Mark Stewart, had in store for me. Polygraph Lounge is what they call themselves when on parole from their straight gigs, and their astonishing depth and breadth of musicianship serve to double clutch a wacky array of jazz, classical and rock parodies into sensory overdrive, lending an air of indisputable authority to the band's giddy deconstruction of musical icons...a performance piece, which thenceforth evolved into something so subversive and off the wall it makes Blue Man Group seem like a PBS fundraising drive..How exactly might we describe Polygraph Lounge's high-speed collision between pop Kultur and post-modernism? Well, imagine the bastard spawn of Spike Jones, Mickey Katz, Spinal Tap and the Firesign Theater as they wash down some Francis Bacon Schoenbergers with a couple of Rubensteins of Margaret Mead, then break into a drunken chorus of "Oy Vey, Maria" before hopping into a rented Ford Clitaurus on their way to a Food Network taping where they challenge Iron Chef PigLatin, Ornette Funacello, to a corn on the macabre battle...If all of this sounds elaborate, it was... Musical and hilarious.»
Chip Stern
Positive Feedback Online - ISSUE 6
(Full review of 3/15/03 Bottom Line at www.positive-feedback.com/Issue6/cswd.htm)
«Two highly sought-after pop-to-jazz-to-20th-century-experimental sessionmen go all Spike Jones and/or Weird Al on your fanny with puns decipherable only by scholars equally versed in Ornette, Iron Butterfly, the muckamuck European tradition, Alvin and the Chipmunks' testicles, and Moby Dick--using didgeridoos, theremins, car alarms, and ...whirlee-copters' no less.»
Chuck Eddy
The Village Voice
«They're funny as all get out and smart as can be, but they wear their erudition lightly, so few people will ever realize just how smart they are -- or how talented as musicians.The pace is breakneck: The instrumentalists leap from instrument to instrument -- some homemade and some quite obscure -- but one thing remains constant and that is the level of musicianship is astonishingly high...Go hear Polygraph Lounge the next chance you get. You'll have a fabulous time, although your abs might hurt for a week, and you'll be supporting several of the smartest, most talented, and funniest musicians you'll ever have the privilege to hear.»
Wes Phillips
ONHIFI.COM
«Polygraph Lounge has forgotten more about music than they ever knew.»
Rob Schwimmer

---
[ Home ]
[ Gigs ]
[ About ]
[ Quotes and Reviews ]
[ Contact ]
[ Booking ]
[ Rob Schwimmer ]
[ Mark Stewart ]
[ Melissa Fathman ]
[ Videos & CD ]
[ Theremin Noir ]
[ Photos ]
[ Instruments ]
[ Links ]