A Eulogy for Glenn Wyllie (1948-2014)
We all lost a remarkable colleague recently.
Glenn Wyllie lived up to his name with a curiosity matched only by his creative brilliance in designing and constructing musical instruments & analog effects. He was an unacknowledged American Master. And though his name may not be familiar, you may know his sounds.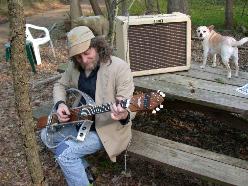 I have used "Wyllie-tones" on stage with Bang On A Can, Polygraph Lounge, Fred Frith Quartet, Paul Simon, Simon & Garfunkel, Patti Scialfa, Bruce Springsteen, Edie Brickell, Ornette Coleman, Stevie Wonder, Joan Baez, Cecil Taylor, James Taylor, Jimmy Cliff, Sting, Alison Krauss, Phillip Gl;ass, Bobby McFerrin, The Roches, Marc Ribot, The Everly Brothers, Iva Bittova, David Byrne, and so many others. You will hear them in the movies Heat, In Dreams, The Butcher Boy, Across The Universe, Titus, The Tempest, SWAT, Where the Wild Things Are, Taking Woodstock and many more, some in theaters right now.
I loved Glenn. I loved his music & his perspective too. Over the years he made me many beautiful soundmakers & soundshapers: "Lightning" (a beautiful semi-hollow-body electric guitar with lightning-shaped f-holes made from a tree that was felled by lightning in back of his house), the Totem Daxophone, the Car Horn Organ, Erbium, Terbium & Sistine sound modules, and 30+ different effects pedals. Fuzz boxes mostly. Glenn loved fuzz. And he knew how to use it.
I always knew when he had created a new one. I'd turn on my answering machine & out would come this stone cold 60's-style rock guitar. It was time travel hearing Glenn play. It was like meeting a deceased loved one in a dream: A sound from a different time but making sense NOW, giving beautiful good boogie & meaning NOW. I saved a lot of those messages. They were just too good to erase.
I have used a wide array of his amazing fuzz tones on every heavy recording session date I have done in the last 15 years. Indeed, the Oscar-winning composer Elliot Goldenthal always requests that I bring at least 10 of Glenn's beasties to every session. I used one on the session for the current release "Noah" just days before Glenn died.
I almost called to tell him. I wish I had. I last spoke to him 3 or 4 weeks before to tell him how his "Red Box" had rocked Istanbul with Bang On A Can. I loved telling him about his progeny's travels & tones. And he was always happy they were getting out & about.
He surely loved the fuzz, but it was his sublime SitarGuitar (the SitGit) that introduced me to Glenn. On tour with Paul Simon I wandered into a small music shop in Carrboro, NC. There were a number of handmade instruments on the wall, including a sitar guitar that was unlike anything I had ever seen. I had played it for only 10 seconds & was smitten when I asked the proprietor, "Who made this!!?" He said, "You want to meet him? He's in back." Out walked Glenn.
That night backstage I deferred to my equally smitten employer & let Paul buy the beautiful beast, taking comfort in the fact that Glenn & I were already designing another. The resulting SitGit remains one of my most beloved instruments. On Paul's album "You're the One" you can hear Paul playing the SitGit in a line gently rising when he sings the word "Love," in the song of the same name. It's all SitGit. It's all Glenn. It's all Love.
Over the years I would come through North Carolina regularly with Bang or with Paul & always spend a night or two with Glenn at his Chatham County off-the-grid woodland house, where he lived with his dog Simon.
"What other 'Wyllie' instruments do you make?" says I.
It was the Spring of 2000, and I was playing Glenn's sitar guitar seated on my couch in the old "Lab" workshop/sound smithery/music salon that Glenn helped me make in my old disheveled Lower East Side Manhattan apartment. I had lured Glenn across the river where he was visiting his mother in Pennsylvania. He had just completed building our first joint project together (the Totem Dax—a mammoth seven-tongued Hans Reichel-style Daxophone w/ an antique tractor style seat cut from the bottom of a giant blue plastic water bottle), and we were about to start on our second.
"I make a 2x4 guitar for sailors," Glenn replied, a touch of Carolina shaping each word. "You know," he continued, "easy to stow."
He asked for a fresh piece of paper, pulled the short stub of a hand-sharpened pencil out of his jean jacket pocket (where it had just had a moment's rest), and began to draw. When Glenn drew (& he often did), he was magnetic. Don't know how else to say it. And what emerged on paper was always a distillate of what was in his brain & what or who was in the room.
In this case I watched as a simple, elegant, full-size guitar neck, sans body, appeared with zither pins for tuners placed just below the bridge. I asked Glenn if one could attach a skeletal frame of metal round stock in the shape of a guitar body to the 2x4 guitar for sailors.
"What shape?" says Glenn.
"B.B. King's guitar" says I.
"Like this?" says Glenn, drawing a graceful butterfly around his plank.
"That's it" says I.
"And then?"
"We stretch all different kinds of springs from the skeletal frame to the 2x4."
Glenn chuckled and did some more drawing. "This it?" He was chortling (openly) now & digging the sonic implications of our fresh blueprint.
"That's it!" I laughed, enjoying with Glenn the mirth that sometimes accompanies discovery.
We would share that feeling on many occasions to come.
Although we lived 500 miles apart, Glenn was my neighbor. We spoke often, & on many occasions I would come home to a custom-made-from-what-was-around-him-and-perfect-for-the-item-being-sent Wyllie-style package at my door, with something inside Glenn thought I could use.
"I don't seem to need this anymore but, after our conversation on Thursday, I thought you might," the note might say.
The box would contain a thing, a tool, a drawing, a schematic, a book, an obscure catalog w/ the appropriate pages listed, etc. but always a neighborly helping hand of some sort. I got dozens of such packages over the years. Some of the contents were immediately pressed into service. Others still wink at me from across my music room or workshop, waiting for their time. Their turn to help. Still others greet me daily from their homes in toolboxes, instrument cases, notebooks & bookshelves.
Glenn will be my neighbor for the rest of my life.
Just days before Glenn died, I played a movie soundtrack session date that called for electric guitar sounds of great girth. After hours of productive work, we hit a snag: How can one possibly accompany the great biblical flood of Noah?
The composer said, "I need a sound that no one has ever heard before & that no one will forget."
I smiled as I reached for Glenn's latest creation and said, "I know just the guy."
You know him too.
Glenn Wyllie.
—Mark Stewart Brooklyn, July 4, 2014
---